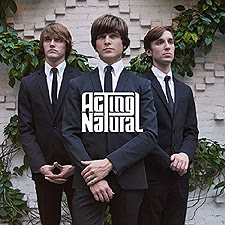 Title – 'Acting Natural EP'
Artist – Acting Natural
I case you weren't aware, Acting Natural, fueled by a mutual interest in bringing back the authenticity of raw Rock & Roll music, lead singer & guitarist Eric Carnevale, bass guitarist/vocalist James David Maney, and drummer/vocalist Jesse Leonard have aligned their unwavering dedication to creating quality music with a signature sound.Their inspirations range from legendary artists of the past and present, including Red Hot Chili Peppers, Led Zeppelin, and The Beatles, just to name a few. Acting Natural's unique sound is focused on passion and solid musicianship.Acting Natural released their first single "Pairadice" and the response was incredible, reaching #1 on the Top 5 Most Added and reached #9 on the FMQB A/C Chart. This young trio, originally from Tampa, Florida, relocated to New York and have now brought out their wonderful self-titled Acting Natural EP.

1. 'The One'
2. 'Nicole'
3. 'Pairadice'
4. 'Bloom'
5. 'Early Morning'
6. 'Missed the Train'

Kicking off with some '60s rock and pop throwback sounds on 'The One', they back that up with the more modern sounding 'Nicole'. Then comes their first single, 'Pairadice' a fun, jaunty track, that's packed by the harmonious ballad 'Bloom'. The staggered gem 'Early Morning' is one of the best tracks on the EP, for my money, and then the album comes full circle with that distinctive '60s sound combined with early '90s indie guitars on 'Missed the Train'.
http://annecarlini.com/ex_cd.php?id=2443