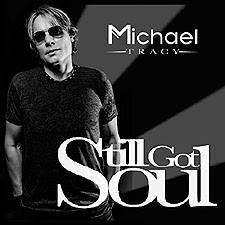 Title – 'Still Got Soul'
Artist – Michael Tracy
In case you weren't aware, it was early 2011 when Michael Tracy began his journey as a singer/songwriter, stepping on stage at a local open mic in Charlotte, NC, to nervously perform some songs he had just written.

He had spent his early 20's in the Navy, stationed on both coasts and traveling to countries throughout the Mediterranean during his time in the military.

The open mic performance awakened something in Tracy and he continued honing his chops that first year, jumping on stages all over Charlotte and jamming with local musicians. Indeed, he went into the studio and recorded his first album, Enough Small Talk, which he released in November 2011.

Over the next two years, Michael put a band together and impressed audiences with his high-energy and soulful performances. Michael then returned to the studio and produced his next album Gonna Smile, which was signed by the indie label Spectra Records and released in February 2015.

After a falling out with his label, Tracy traveled to LA and recorded three songs with Los Angeles producers Bob Marlette (Lynyrd Skynyrd, Alice Cooper) and Sahaj Ticotin (Ra) that would find themselves on his early-2016 release Love And Worries; a short collection of previously unreleased material.

Michael and Sahaj then got together in late 2016 (co-writing an original Holiday tune that Michael had been working on called "Poinsettia Red") and at the turn of 2017, and having been inspired to start his own independent record label, Tracy's next full-length album Still Got Soulwas born.

1. "Laughter"
2. "My Lisa"
3. "Still Got Soul"
4. "Call Me Wild"
5. "No More Waiting"
6. "Sweet Smile"
7. "Savannah Nights"
8. "Shake It"
9. "Hopeful"
10. "Raven"
11. "Poinsettia Red" – Bonus Track

The album features 11 tracks, inclusive of the aforementioned "Poinsettia Red" and will be released this upcoming November 17th, 2017 via Tracy's very own label, the TW Music Group.

Listening to it today and wow, it's like all roads traveled by Tracy, good, bad and ugly, led him to the storytelling section of his life just perfectly. Like a well worn troubadour, his work is of the highest, finest, rawest quality, not one lyric too much, not one sentiment not having been felt by us all at some stage.

His unique sound is rooted in gospel, rhythm & blues, rock, soul, and country, and that all comes through on Still Got Soul. From rockers such as "Laughter", "Call Me Wild", and the brilliantly perky "Shake It", through the Southern nature of "Savannah Nights" and the heartfelt soul of "Still Got Soul", on into the captivated yearns of "Hopeful", the album is simply chock full of gems.
http://annecarlini.com/ex_cd.php?id=2446