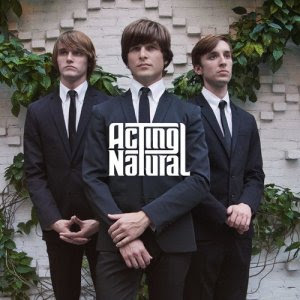 ACTING NATURAL
Acting Natural
independent
Well they look like nice boys. My Mum would approve.
She'd also approve of the music as they've decided to go for a sixties throwback pop rock sound with nods to the Kinks and pre-rubbish Beatles.
Eric Carnevale on vocals, guitar, piano, organ and percussion; James David Maney on bass and vocals; and Jesse Leonard on drums and vocals, for it is they, are actually from Tampa, Florida, not Muswell Hill although they've relocated to New York to bring their sounds to the world.
And they're very good at what they do. It's very melodic, there are some lovely harmonies and on numbers like 'Pairadice' they show an inventiveness and flair that should serve them well. It's well produced and presented and is a fun EP for all the family.